Celebrating International Cat Day and Global Conservation Efforts
August 8th is International Cat Day!
This day is a celebration of one of the animals most widely-beloved by humans: the cat!  Since 2002 when the day was instituted by animal welfare groups, many of us cat fans take the time to do something special on August 8th. Whether it's simply showing some extra love to the cats in our own lives, or through supporting larger philanthropic efforts for animal welfare, this day is the perfect (or should we say purrfect) opportunity to celebrate our love affair with cats.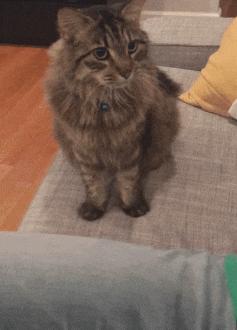 On International Cat Day (and every day, really) we all appreciate the fun cat GIFs and cute kitten pictures that lighten our days after reading the morning news! For CAF America, this day is also an opportunity  to honor CAF America grantees working for the benefit of some of the cats most in-need in the world: big cats. Loss of habitat and conflict with humans have lead many species of big cats to the brink of extinction. By some estimates, lions could be gone from the wild within 20 years. There are only an estimated 3,200 wild tigers left in the world. And here in the United States, threats to the Florida panther have kept it on the endangered species list for decades.
It is increasingly important to take action for these wild animals, and CAF America donors support organizations doing critical work for big cats all over the world. Join us in celebrating the work of these global conservation efforts this International Cat Day!
---
African Lion & Environmental Research Trust (ALERT) recognizes that solutions to the problem of depleting lion populations in various African countries will be most successful when local communities get involved on the ground. This is ALERT engages in lion-focused conservation using systems-based and conflict resolution approaches. ALERT's programs include educational initiatives, conservation work with lions in the wild, and various projects in social development which address the needs of local communities coexisting with lions.
Conservation Lower Zambezi is an organization working in the Lower Zambezi National Park in Zambia to support the local community while encouraging conservation and sustainability of natural resources and animals, including big cats like cheetahs and lions. We've written a blog about their great work – read it here.
Conservation Action Trust supports research, investigation, and reporting on conservation and environmental issues, with the ultimate goal of saving specifically identified flora and fauna from threat of extinction. To become more informed about endangered animals like tigers and lions on this International Cat Day, check out the Conservation Action Trust database of news articles as well as their collection of lion photos.
Lion Aid Ltd. is a UK charity working globally "to protect and conserve a species globally representative of the freedom and importance of wild animals." What started as efforts to support one research project in Botswana in 2004 has now evolved into a larger strategy combining endeavors in research, public education, and policy, all with the goal of protecting lions. Furthermore, their Kids for Lions program benefits not only these big cats, but also the children who participate in a variety of enriching educational experiences.
World Wildlife Fund works globally in conservation efforts and to educate people, governments, and businesses on how to make more sustainable choices. Their efforts to protect wildlife include projects focused on many vulnerable and endangered species, including several big cats. Visit the WWF website to learn more about jaguars, snow leopards, tigers, and amur leopards on this International Cat Day.

---
Happy International Cat Day! We hope you take some time to celebrate cats – and the organizations who, with the support of CAF America donors, are doing their part to protect endangered cats all over the world.